Flesh Assembly hail's from Hayward Ca.My name is Ed,i formed this band in 1995', since then the band has broken up twice,in 97' then again in 2000', I am the only original member. I went through a little down time,played with a few band's, but it just didn't work out.2003 rolled around and I decided to re-form the band. It must have been the right time because it all fell into place so easy! The current line-up is the most solid the band has ever been: Drums: Alex Arias
Bass: Bill Duncan
Guitar/Vocals: Eddie Delacruz
Guitar/Vocals:FernandoGonzalez Vocals: John Garcia
This is the last incarnation Flesh Assembly! NO B.S. IN THIS BAND! We all get along great and have the same goals...that's rare! We believe in helping out other bands in the scene with something that seem's to be missing...INTEGRITY.We have our own sound that I like to call HARDCOREGHETTOMETAL (LOL!) Check out our sound at our live shows. Yea...you have to get off your ever growing ass thats getting fatter and flatter on your couch by the second. Get up get out, have fun. Go ahead and keep reading our webpage though, its cool if your doing that...i'm going out...PEACE!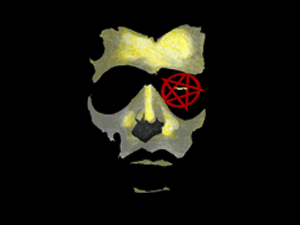 Edward Delacruz Born:Oakland Ca.10/17/68
I've been in various band's troughout the year's,this band has been in existence for a few year's with several lineup change's,the member's you see now are by far the most solid this band has ever been!We have been together for almost a year now and have began playing local show's and hope to be picked up for a major state wide tour soon(will keep you posted).
We are currently working on a full length CD,we play mostly Thrash metal,E-mail me if interested in getting a copy when it's available.OUR DEMO IS AVAILABLE E-mail me for a for a FREE copy!!! MP3 will soon be online.
What do i do in my spare time?UFO's/CHEMTRAIL's has been a major interest of mine since 97'.I am an ametuer astronomer,and i compile astronomical data to share with other's,most of all it is a personal enjoyment of mine.I highly recommend you try sky watching,there are so many thing's to see and you might find some much needed relaxation in doing so?So kick back,fire up a phat blunt and relax,welcome to the sound's of the FLESH ASSEMBLY!!
Fernando Gonzalez
Born:Berkely ca. 8/17/83
Sup! my name is nando I was raised in hayward ca,been playin' guitar for a few year's.
Personally i like my music slammin' ,that's why i hooked up with the FLESH ASSEMBLY crew!
My skill's have been put through the test ever since i started playing with ed,this is pretty 'heavy and busy' music we play so you really have to be on it to keep in time and in tune! personally i feel my song writeing ability has improved,i do write alot of the exsisting material now,but i plan to be a major factor in the next recording.
So i spend alot of xtra time in the studio trying to stay on the same page with ed,i feel it's important to be as tight as possible with the other guitarist,but i also believe the guitarist should retain their own unique style.
When i'm not doing anything music related you can find me lurking on the internet,i trip on alot of conspiracy web site's,i usually hang around our forum(MOD)hella information in that place.So if you like to think you can find the link to our forum on this web site.
I talk to you all later i have some new material to work on....
Alex Arias Born:9/2/66
I started playing the kit when I was 8 yrs. old.My brother made my parents buy him a three piece toys-r-us drum set and I eventually took over. Later he opted for the guitar. N-E-Wayz heres some things about me... Like most of us, early music influences came from my parents. Sounds I heard around the house, besides my parent's music, was the music both of my brothers grew up with, i.e. Pop40-The Eagles, The Bee Gees, R&B-James Brown, The Jackson 5, and Soul-Heatwave, Tower of Power. I got into rock-n-roll, along with my bro. George, by the time I was 8yrs old...it all went crazy right after KISS. As a drummer I've played various types of music, from Funk, Mexican cumbias, R&B, Hip-Hop, Rock En Espanol to Punk Rock. Edward is actually one of the first guitarist I hooked up with sometime after high school. Back in the early days, my brother George, Edward and I had formed a garage band. When I heard Eddie was in need of a drummer I said "Fk yes!!", he's a guitarist I've always been able to click with. The new Flesh Assembly line up is a must to check out; haven't had much fun like this since my Dork.com years. When I'm not playing or listening to music, I'm either working on a computer or reading up on life. My Favorite sports to watch and play are football, baseball, softball and soccer. My remote control starts on VH1, then to The Discovery Channel, The History Channel, ESPN, Local TV, Cartoon Network, E! (Howard Stern!), and yes CNN. I'm into Hot Wheels, Old Monster Movies, UltraMan, and comic books.I HOPE YOU ENJOY THE MELLOW TONE'S OF THE FLESH ASSEMBLY!!!!

All music/lyrics written and arranged by FLESH ASSEMBLY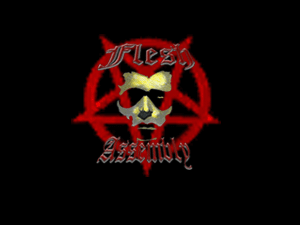 Bill Duncan Born:Oakland ca.11/17/67
Yep, born in Oakland lived there till I was bout 10 or so then moved to Vallejo, then Novato, then a BIG cross country excursion to a small town in Erie county Pennsylvania where I spent my High school years posing as a track star (yea I've got medals to prove it don't rub it in).
Anyway, after escaping small town U.S.A., I headed back to Oakland C.A. to try and make a name for myself in the broadcast industry (it's probably one of those on-going adolescent hang-ups about showing up all those assholes in high school but whatever, I digress). So, I went to broadcasting school, and landed an internship on KSOL where I got the opportunity to meet lots of Pop and R&B icons like Barry White, The Gap Band, Jimmy Jam and Terry Lewis (Janet Jackson couldn't make it to the studio that morning so she sent her producers), and Sinbad. Yea, it was fun for a while but, no jobs for Billy D. So, we move on to the am dial and land an overnight gig at "Hits and memories," AM 1310 KDIA The Boss of the bay! It was fun for a while then, of course , station gets sold, new management says "We want some changes!" and KDIA becomes RADIO Disney!
Alright, next episode, Billy wants to hone his art skills and get back to computers Ok, lets see he attends the Academy of art college while working at a small independent station in San Francisco. Along comes the dot com boom, and a small start-up company offers huge cash for digital sound editors (did I mention I worked at Leap Frog Toys yet?). So, we jump ship and get into the foray, I dance around in this lovely soup for about a year, then the bottom drops out of the market and every body who wasn't in a management role gets screwed with no Vaseline!
Peace!
P.S. The stuff about the motorcycles is still in the mix too, don't know how or when I can but I still try to get out there in the twistys every once in a while, looking to get back into dirt bike riding too, any takers?